LTE is the technology which makes mobile broad band possible.
Definitions
3GPP Long Term Evolution, referred to as LTE and marketed as 4G LTE, is a standard for wireless communication of high-speed data for mobile phones and data terminals. It is based on the GSM/EDGE and UMTS/HSPA network technologies, increasing the capacity and speed using new modulation techniques.The standard is developed by the 3GPP (3rd Generation Partnership Project) and is specified in its Release 8 document series, with minor enhancements described in Release 9.

LTE (both radio and core network evolution) is now on the market. Release 8 was frozen in December 2008 and this has been the basis for the first wave of LTE equipment.

From 3GPP Release 10 onwards – 3GPP is compliant with the latest ITU-R requirements for IMT-Advanced 'Systems beyond 3G'.

The 3rd Generation Partnership Project (3GPP) unites [Six] telecommunications standards bodies, known as "Organizational Partners". Since the completion of the first LTE and the Evolved Packet Core specifications, 3GPP has become the focal point for mobile systems beyond 3G.

LTE Advanced is a mobile communication standard, formally submitted as a candidate 4G system to ITU-T in late 2009, was approved into ITU, International Telecommunications Union, IMT-Advanced and was finalized by 3GPP in March 2011. It is standardized by the 3rd Generation Partnership Project (3GPP) as a major enhancement of the Long Term Evolution (LTE) standard. Standardization work was done in 3GPP Release 10, which was frozen in April 2011.

LteWorld is powered by NgnGuru Solutions Pvt. Ltd., a training and services company focused on telecom technologies.
LTE World map by GSACom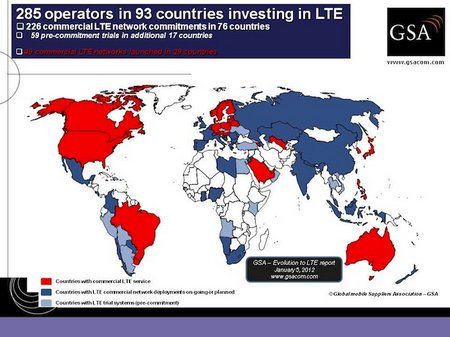 GSA (the Global mobile Suppliers Association) represents mobile suppliers worldwide, engaged in infrastructure, semiconductors, devices, services and applications development, and support services.
LTE Deployment map by LteWorld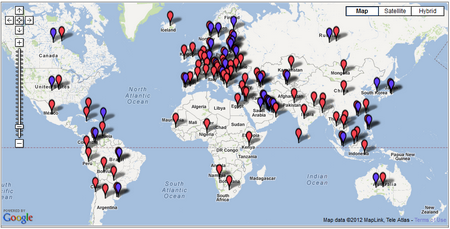 LTE related links