A new book from 2014 "Cybersecurity for Executives: A Practical Guide" is a great book, and definitely worth for reading for persons working on the security management, or as the title says, for executives.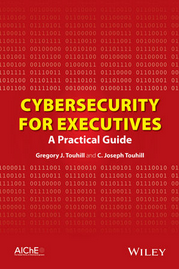 Title: Cybersecurity for executives

Author : Gregory J. Touhill, C. Joseph Touhill

Publisher: Wiley

Date: 2014

Number of pages: 416

Overview

Book has a practical approach with many examples, very good reading for security managers

Purpose

Provide a practical approach for executives on how to address cybersecurity

Background information

The intended target group is executives but this is great material for security managers as well

In the book executive is defined as "an executive is someone who has administrative and managerial responsibility for a shareholder-owned business, or a publicly-owned organization committed to the protection and promotion of the health, welfare, and safety of its constituents"

Evaluation

The value of the book is in it's practical approach. It aims to explain to an executive what the cybersecurity is, and what it means for the business. It teaches to ask the right questions, and by examples guide the executive into a mature mindset. The statement "Cybersecurity is about risk management " with reasoning is introduced in the preface and introduction chapters, and for me one should read chapters 1 and 2 before going into other chapters.

Authors mention that the chapters are independent modules that could be read in any order. Alltogether there are many pages to read, but if you can find the time, then I would recommend to read the book in the written order.

Summary

A generalistic management approach on cybersecurity without going into too many technical details, and without limiting into a certain set of best practises or standards, but talking about things as they are, what it can mean for the business, and what one can do about it.
Content
Introduction
Why be concerned?
Managing risk
Build your strategy
Plan for success
Change management
Personnel management
Performance measures
What to do when you get hacked
Boardroom interactions