There are many free GPS related applications available in Android Market.
Maverick is one of them. Home page is here . Best features are:
support for various map formats

maps can be online or offline

maps and tracks can be viewed in PC (requires another tool)

track support

turn off display while recording a track
Screenshot with one track is visible here below. The track was about 5 km long, and took 44 minutes. The scale of the map is 13.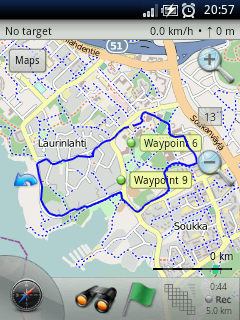 Various map format can be selected. I find the Open Steet Map as a good map which shows also walking paths in the city.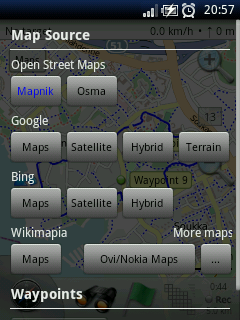 Creating maps
If data traffic is enabled then maps are automatically stored in directories while you walk (or move). If you prefer, or plan to visit other places, then one can try to create maps beforehand. For example Mobile Atlas Creator can be used for creating maps.
Related Tools
Mobile Atlas Creator for managing maps
XXX for viewing track (gpx files)