There are several tools, like TTSReader, which can be used to read text aloud.
Good in TTSReader:
Can change voice

including other languages

Can change speed and pitch
Can save speech as wav or mp3 file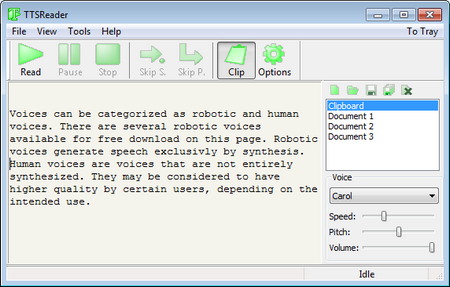 Unfortunately it is difficult to find good and pleasant human like voices 😉
Human voices
Better quality human voices are commercial products. AT&T provides a demo site for testing different voices.
Other languages
For non-english languages, one could install eSpeak.
Online alternatives
There are some online text-to-speech services. One multilanguage example is here. Just paste your text and listen yourself.
Update 2014: In MS Windows, there is now a Speech Platform, which supports 26 languages. The voice quality is good (as compared with eSpeak). For more information, see blog article.