Most of the TTS tools on MS Windows support SAPI 5 (SAPI=Microsoft Speech API).
In a previous blog, eSpeak and TTSReader were introduced as an alternatives for non-english languages. The good news is that the free tool called Balabolka also supports the usage of the 'newish' Speech Platform. The Microsoft Speech Platform contains 26 languages!
I'm positively surprised with the voice quality, it is much better than my earlier attempts with eSpeak. The get an idea without any installation, one could try the Speak button in the Bing translator , since the same voices are used there.
I was using the portable version of Balabolka, and the picture below shows the book chapter that I was listening.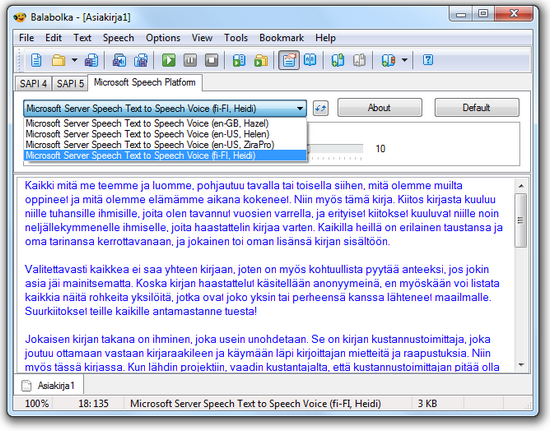 Downloads
Microsoft Speech Platform Runtime v11.0

to use with Balabolka, one need to install the 32bit (x86) version also on 64bit machine

Redistributable Language Packs v11.0

choose the languges that you want
Advanced usage, programming example