Serviio is one good alternative when looking for a DLNA media server.
"It allows you to stream your media files (music, video or images) to renderer devices (e.g. a TV set, Bluray player, games console or mobile phone) on your connected home network."
For DLNA intro, see blog. For an android DLNA Player, see AnDLNA.
Serviio installation introduces 3 components: Start, Stop Serviio scripts and Serviio Console. The figure below shows the online sources examples in Serviio console.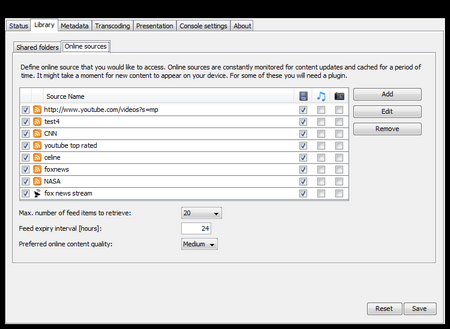 If Serviio recognizes the client device, then it automatically uses suitable renderer profile. Otherwise it uses "Generic DLNA profile" (see Status tab). The menu structure visible in the client, can be adjusted in the Presentation tab.
Note about alternatives
I got Serviio working with Android phone (AnDLNA) and with Philips home theater. Neither were capable of showing subtitles.
Clearly the detailed functions, like subtitles, depends on both the media server and the player. I guess, one have to experiment with different Media Servers until getting a satisfactory solution. I'm listing here experiences with other alternatives. Note, I haven't looked DLNA problems in details, since Serviio was working fine.
Note about subtitles
I got subtitles working in Philips hometheater, when using LXiMediaCenter as Media Server.
Notes about testing