Vtiger CRM is a multiuser web-based Customer Relationship Management tool. Vtiger page at sourceforge describes it as follows:
Vtiger CRM enables sales, support, and marketing teams to organize and collaborate to measurably improve customer experiences and business outcomes. Vtiger CRM also includes email, inventory, project management, and other tools, providing a complete the business management suite.
It is possible to customize Vtiger, and that's makes it atractive use case for Vtiger to use it as a Personal CRM, ie. for a consultant, professional or freelancer.
The figure below shows a typical Administrator's view. Most frequently used functions are on the top menu bar, while the rest of the functions can be reached via "More" button.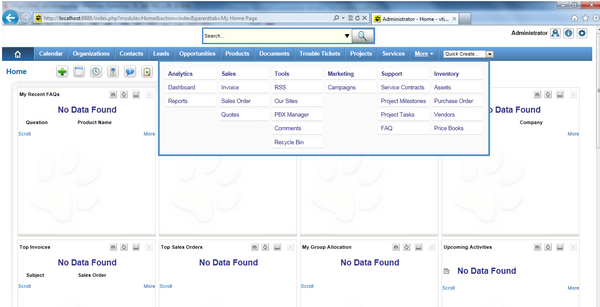 Main Features are related to Sales, Marketing and Support:
Calendar and Task Management
Email Marketing
Lead Management
Opportunity Management
Support Management
Other features:
Project Management
Inventory Management
Customer Portal
Document and File Management
Reporting
Links
Vtiger as Personal CRM
The figure below shows a customized menu bar and custom language together with the main use cases for personal CRM.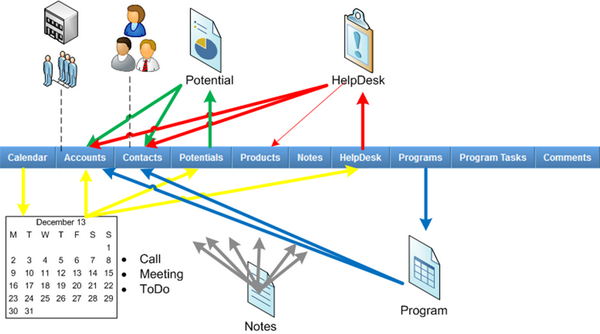 Use cases for Personal CRM are:
Calendar and task management
Potentials

ie. Your plans to potentially achieve something

Programs

Your execution of plans as programs rather than as projects

HelpDesk

Support requests to you, ideally related to Program or Service Contract

Notes

Provides additional collections of information
Example:

Market Research notes can be created for Accounts, and stored in MarketResearch folder making it easy to find notes for particular account or view all notes by looking notes in the corresponding folder.
Tips
Language file "US_Custom" for the Personal CRM contains following changes to US language:

Opportunity -> Potential
Trouble Tickets -> HelpDesk
Documents -> Notes
Organization -> Account
Projects -> Programs
Language file installation: As admin, Import with Module Manager -> Custom -> Import
Language file for user: As user, choose a new language called "US Custom", and click home icon to see the changes

Windows installation modifications

bind mysql to localhost only

In file "my.ini", define line "bind-address = 127.0.0.1" under section "[vtigermysqld]"

bind apache to localhost only

In file "httpd.conf", define line "Listen 127.0.0.1:8888"

For any issues related to running the apache and mysql service, please see start and stop scripts, startvTiger.bat and stopvTiger.bat

for example, in stopvTiger.bat only 1 shutdown command is needed for mysql, and running it twice might cause an error which can cause that the service is not automatically removed. One can fix this by skipping the second "mysqladmin shutdown" command just before the line "mysqld –remove vtigercrmMysql540"