MS Access is included in the MS Office set of tools. I was playing around with it, and discovered that it comes with several build-in templates for different tasks. One of the interesting template is "Customer service" template, that was close to what I have been looking for. The figure below shows how the original template Customer Service looks like.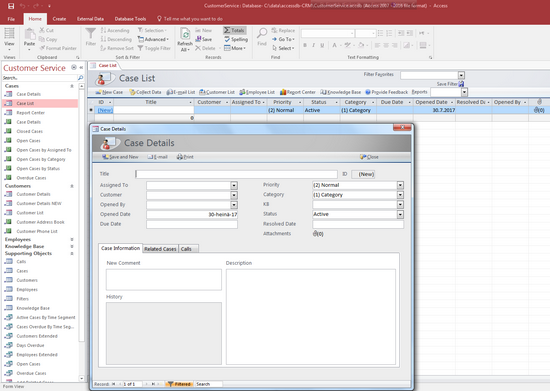 Even though the interface looks very technical, it is straight forward to use and one can stick into the main view "Case List". Also it is possible to modify the file, and add additional data and reporting capabilities without any programming. The figure below shows the main concepts and what data fields was added in this DIY CRM.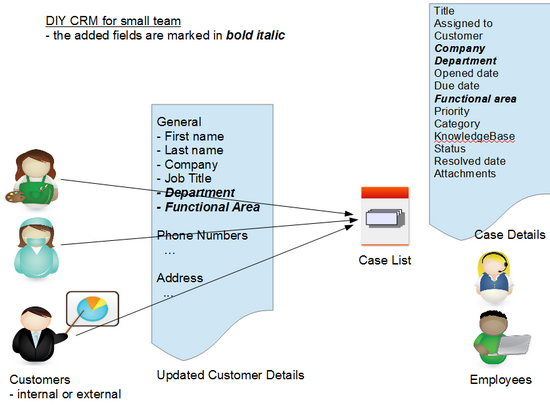 The screenshot below is after the modifications.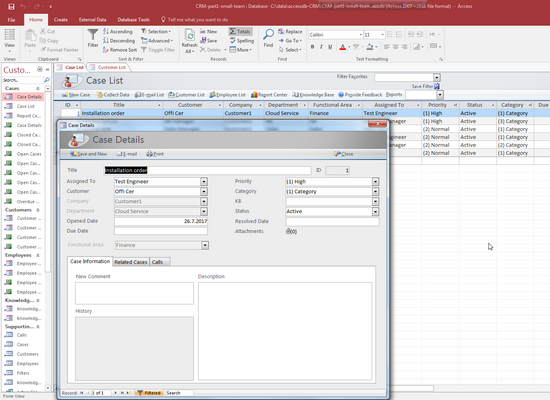 I have created 2 new reports to cover those new data fields: "Open Cases 2" and "Closed Cases 2". And the 3 data fields "Company", "Department" and "Functional Area" are included in the "Case Details" report. The list of values for "Priority" and "Category" can be changed. In this case, they are kept as in the original template. (I have also changed all the "dates" into "short form"; personal preference. You can easily modify this in the file.)
Files
DIY CRM for small team

This zipped Access DB file comes with sample data. (You need to unzip before using it.)

link to Access 2016 runtime

If you don't have Access then it is possible to try this out with runtime license. One can add new data, change existing data and delete the data.
About the sample data. One can delete lines with "Del" key. However, with runtime version it is not possible to see the all the tables, queries and reports, and therefore one cannot delete the existing "Call" data. Any modifications need to be done in a computer with the normal Access license.
About Part 2
In the part 2, the same access DB is further modified so that it could be used as personal task or time management tool.