McAfee is producing quaterly threat reports which are very informative and summarizes the latest "threats".
McAfee Threats Report: Third Quarter 2012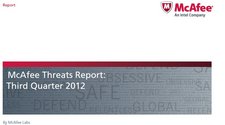 McAfee Threats Report: Second Quarter 2012
I have not found any good page which presents these reports. However, they can be found at the "View All Publications" page. Also it might be possible to find link to the latest one at their GTI page.
Examples from the report