SoftPerfect Bandwidth Manager is good basic tool for sharing the internet connection by limiting the bandwidth on different computers.
In the example below (Lite edition), download bandwidth limit is set to 20Mb/s and upload limit is 2Mb/s. (For some reason the bidirectional rule did not give the correct results, and that's why 2 different rules are used and active). In this tool one can set limits per destination or origin.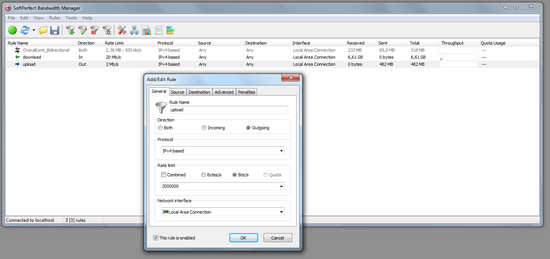 The Lite edition is free, please check the license conditions.
Advanced Alternatives
Please note that the overall bandwidth limitation can also be done with NetBalancer. NetBalancer can limit the bandwidth per process, and can also show the bandwidth usage per process. The Unregistered version is meant for "home use only". It was with the help of NetBalancer that I was finally able to identify that my latency peak problems were related to firefox.