Six Thinking Hats method can be useful when taking a discussion/workshop with several participants and at the same time you want to make sure that you will get some concrete results out of the session. This method nicely gives a structured approach on how to run the session, instead of letting participants to go from one extreme into another.
To get a quick introduction, I highly recommend to see one of the following videos:
The picture below is from the first video.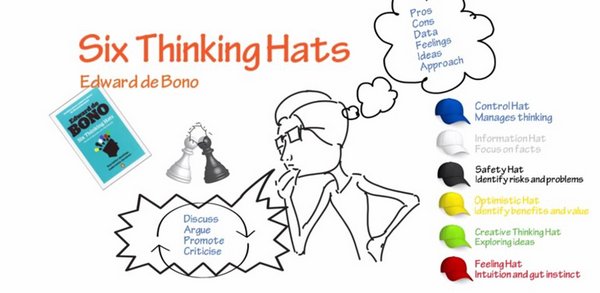 A concrete example is available here, and a powerpoint template is here.
How the session could look like, in which order to use the hats etc, then one could have a look here. With some examples:
First ideas:

blue – definition of subject
white – ready knowledge
green – generating ideas

Problem Solving:

blue – definition of problem
white – available info
green – possible solutions
yellow – reality check solutions
black – weak points solutions
white – connect to info
blue – draw conclusion

Decision Making:

blue – topic of decision
green – offer alternatives
white – factual situation
yellow – suitability alternatives
black – un-suitability alternatives
red – making the decision
black – assessing decision