I was positively surprised about this book "Enterprise Cybersecurity", and I can happily recommend it to anyone working with security management. There are more than one way to do the things, and this book is showing one alternative way on how to connect the dots between different concepts in cybersecurity.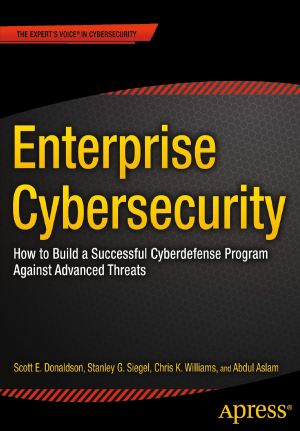 Title: Enterprise Cybersecurity
Author : Donaldson, S., Siegel, S., Williams, C.K., Aslam, A.
Publisher: Apress
Date: 2015
Number of pages: 490
Overview

Book is showing a holistic view on the cybersecurity, and is able to do it in a good guiding way.

Evaluation

I like the presentation thread in the first 4 chapters:

New Cybersecurity Mindset Figure 1-8

Effective Enterprise Cybersecurity Program Figure 1-9

Effective cyberdefense framework Figure 2-1

Cybersecurity Process Figure 2-3

Risk Management Process Figure 2-4, 2-5

Cybersecurity Controls Figure 2-7, 2-8

Enterprise Cybersecurity Architecture Figure 2-12

11 functional areas:

Systems Administration

Network Security

Application Security

Endpoint, Server, and Device Security

Identity, Authentication, and Access Management

Data Protection and Cryptography

Monitoring, Vulnerability, and Patch Management

High Availability, Disaster Recovery, and Physical Protection

Incident Response

Asset Management and Supply Chain

Policy, Audit, E-Discovery, and Training

Defining Security Scopes Figure 4-3

Eight Types of Security Scopes Figure 4-4

Security Scopes for the Typical Enterprise Figure 4-7

Selecting Security Controls Figure 4-8

Selecting Security Capabilities Figure 4-9

Selecting Security Technologies Figure 4-10

Considering Security Effectiveness Figure 4-11

Even though there are several references to NIST framework, it is still used as part of the bigger program, and would not restrict to use any other framework as a base.
Contents
Part I: The Cybersecurity Challenge

Chapter 1: Defining the Cybersecurity Challenge
Chapter 2: Meeting the Cybersecurity Challenge

Part II: A New Enterprise Cybersecurity Architecture

Chapter 3: Enterprise Cybersecurity Architecture
Chapter 4: Implementing Enterprise Cybersecurity
Chapter 5: Operating Enterprise Cybersecurity
Chapter 6: Enterprise Cybersecurity and the Cloud
Chapter 7: Enterprise Cybersecurity for Mobile and BYOD

Part III: The Art of Cyberdefense

Chapter 8: Building an Effective Defense
Chapter 9: Responding to Incidents
Chapter 10: Managing a Cybersecurity Crisis

Part IV: Enterprise Cyberdefense Assessment

Chapter 11: Assessing Enterprise Cybersecurity
Chapter 12: Measuring a Cybersecurity Program
Chapter 13: Mapping Against Cybersecurity Frameworks

Part V: Enterprise Cybersecurity Program

Chapter 14: Managing an Enterprise Cybersecurity Program
Chapter 15: Looking to the Future

Part VI: Appendices

Appendix A: Common Cyberattacks
Appendix B: Cybersecurity Frameworks
Appendix C: Enterprise Cybersecurity Capabilities
Appendix D: Sample Cybersecurity Policy
Appendix E: Cybersecurity Operational Processes
Appendix F: Object Measurement
Appendix G: Cybersecurity Capability Value Scales
Appendix H: Cybersecurity Sample Assessment
Appendix I: Network Segmentation