Many of the webcam contain a IR-filter to block the infrared light from the sensor.
It is possible to turn the webcam into night vision webcam by removing the internal IR-filter and replacing it with "visible light" blocking material.
The night vision here means that the webcam can see targets in the near infrared spectrum (0.75-1.4 µm). Typically the target need to be illuminated with infrared led, if there are no other infrared light sources.
Please note that this is not the same as thermal imaging, where body temperature can be measured without additional illumination. The spectrum is even less energetic (0.9–14 µm) (The camera for thermal imaging is called thermographic camera.)
Removing IR-filter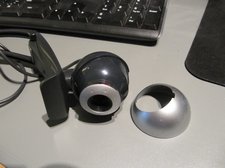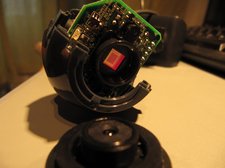 logitech webcam Cover and lens removed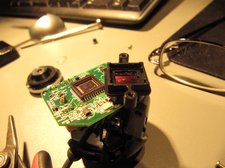 Sensor is now visible, the IR-filter is connected at the bottom of lens support frame (lying freely on the right).
The IR-filter was glued, and finally I have to break it in order to remove it. Piece of colour negative film was placed in the same place in order to block the visible light. (I'll replace this setup after obtaining better material, like acrylic glass)
Test with DVD remote control
DVD remote control is an example of consumer IR.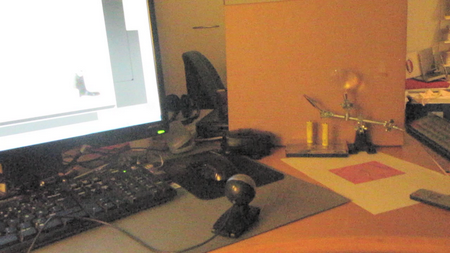 The setup: modified webcam is looking towards 2 batteries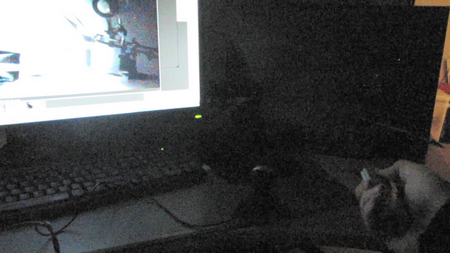 In dark room, remote control is pressed, but nothing visible is seen.
Webcam is detecting the IR light, and output is visible in the iSPy tool (on the screen)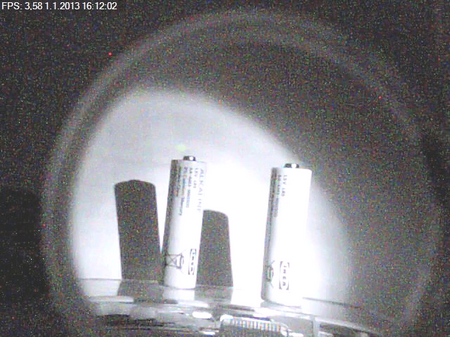 This is one of the webcam screenshots from the iSpy tool.
Test, shape of DVD-remote control IR beam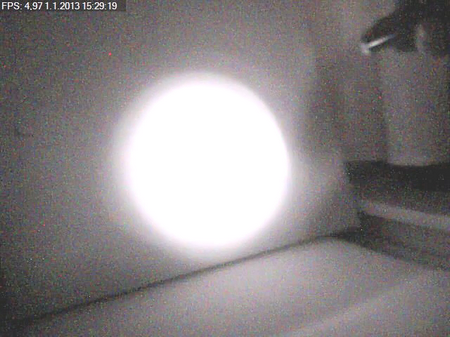 The beam shape is circle, and quite wide even at a short distance.
Test, comparison with IP night vision camera
On the left is the modified webcam, on the right is the night vision camera with 5 IR leds.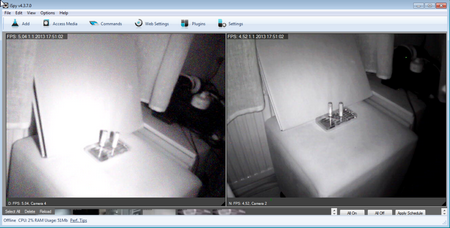 Test, illuminated IR target behind window
The normal window reflects big part of the IR light. Therefore if using IP night vision camera through a window to look from inside house into outside, the reflected IR light is so strong that one cannot see who or what is behind window. However, if the outside is illuminated with IR led, then cameras today are sensitive enough to see through the window.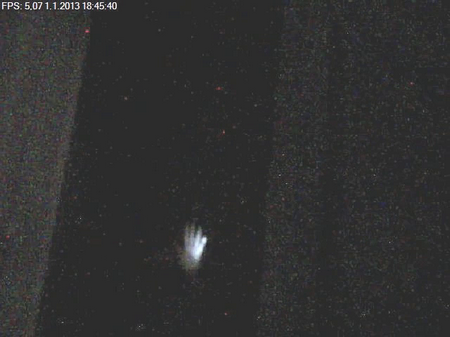 Screenshot from modified webcam, when outside target (hand) behind window is illuminated by dvd remote control.
Links